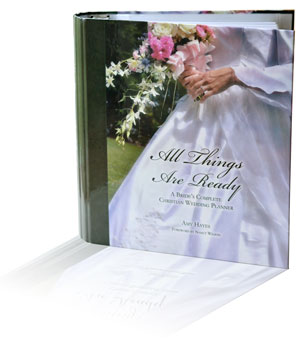 This distinctively Christian wedding planner will help you organize a beautiful, enjoyable, God-honoring wedding. Unlike most wedding planners available today, this planner looks at weddings from a distinctly Christian, Bible-based viewpoint.
All Things Are Ready is now available from Amazon.com

and from Doorposts (in both print and PDF formats).
This Christian wedding planner is based on three basic assumptions:
Planning your wedding doesn't have to take very long (unless you want it to).
The cost of your wedding should not exceed what your family can afford.
A Christian wedding is all about rejoicing in what the Lord has done in the lives of two people and their families.
All Things Are Ready is full of to-do lists, planning resources, tips, budgeting and timeline tools, options for personalizing your wedding, ideas for portraying biblical themes, and devotions to keep your focus on the Lord and the work He is doing in your life through marriage.

Download Free PDF: Table of Contents, Foreword, and Preface


Download Free PDF: Chapter 1 – Engagement
Here are a few other topics you'll find in this planner:
How you can use your time as "bride" to be a blessing to others
Things to consider when choosing the best date and time for your wedding
Thinking creatively about a location for your wedding (with sixteen different location ideas)
How to be considerate when choosing your wedding attendants
How to identify your wedding priorities and spend your money where it counts most
How to save money by being flexible and thinking creatively
How to weave a consistent style and feel through all the elements of your wedding
Creative ideas for making your wedding uniquely yours
How to choose the right stores for your wedding gift registry
Why premarital counseling is one of the most important steps towards creating a glorious marriage.
How to prioritize and delegate wedding preparation tasks
A one-page master checklist of the important stuff (those things you don't want to forget about)
Reasons for a longer or shorter engagement
How to plan a wedding in twelve weeks (or less)
How to incorporate biblical themes and imagery into your wedding.
The bride devotionals are also available separately as an Amazon Kindle eBook.
Sixteen chapters include:
Engagement
Setting Your Date
Finding a Location
Wedding Budget
Wedding Style
The Wedding Party
Wedding Invitations
Wedding Apparel
Wedding Photography
The Wedding Ceremony
The Wedding Reception
Flowers and Decor
The Week of the Wedding
Wedding Help
Wedding Themes from Scripture
After the Wedding
All Things Are Ready will help anyone organize a beautiful Christian wedding. It makes a great engagement gift or addition to your church library. Order your copy from www.doorposts.com.