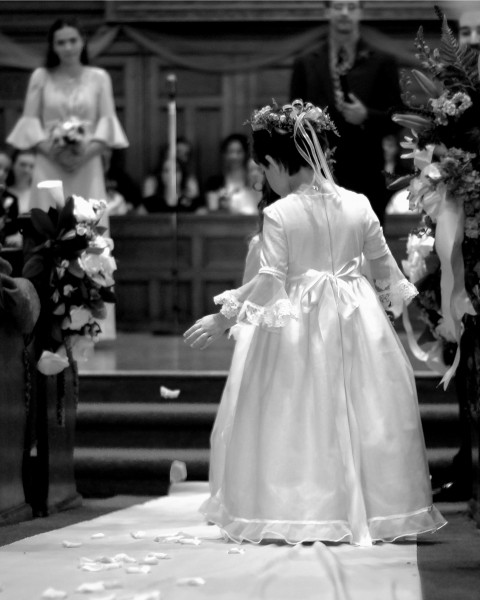 When it comes to choosing where to spend your wedding dollars, wedding photography may be one of the biggest decisions. If you decided that fine art wedding photography is the most important place to put a large portion of your wedding budget, choosing who to entrust with this job will be a significant wedding planning decision.
One of the things that can help you choose well is to know in advance what style of photography you are looking for. The most expensive, talented photographer in the world will still not produce wedding pictures you cherish if you don't share his or her artistic tastes. Each photographer will have an individual look and feel to their photographic art. Being happy with your wedding pictures will largely depend on whether that look and feel is in harmony with your own personal tastes.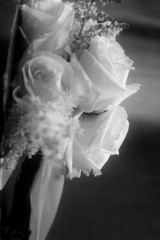 To start sorting out your photography choices, decided whether you prefer a traditional portrait or a journalistic photographer. The following excerpt from All Things Are Ready, A Christian Bride's Complete Wedding Planner sheds some light on these two photographic styles. The photography chapter in All Things Are Ready has additional ideas, tools and worksheets to help you make satisfying choices and spend your wedding photography dollars well.
"The traditional wedding photographer has been the norm for at least the past fifty years. He or she will be skilled in staging, lighting, organizing people, and capturing posed portraits of the wedding party, families, and ceremony events. Often they will stage key moments of the wedding during the photography session in order to capture the shot, even if the actual event doesn't prove very photographically viable. A traditional wedding portrait photographer will make sure you have a beautiful portrait of everyone looking their best on your big day.
Journalistic photography is fast becoming the more popular choice for weddings. A journalistic photographer follows the bride and groom through their wedding day, watching for "moments" to capture. He/she will find unusual angles, compositions, and interesting uses of light to create artistic pictures. Comparatively little posing will be done since a journalistic photographer is usually more intent on recording events as they happen. This photographer is likely to ask a group of subjects to do something together rather than to stand a certain way together. They may not get every shot you were hoping for. You may have to give up a picture with your great-grandmother in order to capture the moment when the flower girl steals a lick of the cake.
Both options have their strengths and weaknesses. A traditional photographer will spend more time making sure nothing from your "poses" list will be left out. He or she may also have better people management skills and be able to move through that list quickly. However, with a traditional photographer, your album will be weighted heavily towards posed portraits with comparatively few candid shots, and is more likely to look like hundreds of others' albums.
A good journalistic style photographer will see things that capture the mood and atmosphere of the day in a unique and memorable way. You are more likely to come away with beautiful photographic art. However, journalistic photography is more unpredictable, and your satisfaction will depend on the specific artistic style of the photographer you select. If you choose to go the journalistic route, be very careful to select a photographer whose taste in pictures most closely matches your own.
Also, a journalistic photographer's presence may be much more pervasive throughout the day. He or she will want to follow the key people around and be in the room, watching for  good pictures to happen. The best photographers will work with you hardly noticing they are there, but if a stranger shadowing you all day will make you uncomfortable, you may prefer a more traditional photographer.
Also be aware that these are broad categories, and many photographers fall somewhere between the two. Decide which style you prefer and then look again at photography websites. Note what you do and do not like. Write down your "must haves," and write down what you dislike. Use these notes when interviewing photographers. Asking many questions and being clear with your expectations will help your photographer produce the best possible wedding album for you."