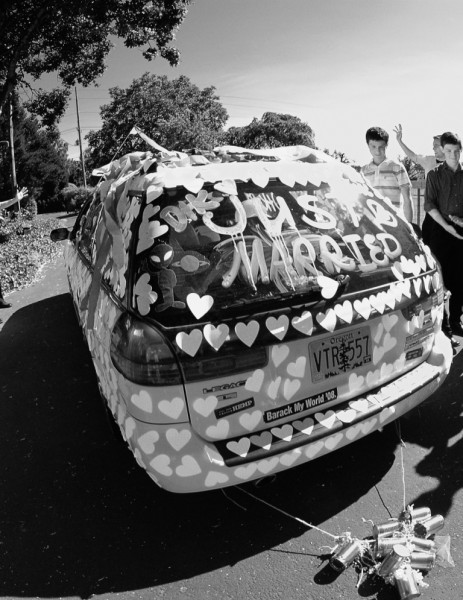 You're finally done with all the hubbub and you're ready to "get outta here" and enjoy your honeymoon! You walk, run, skip or dance your way through an aisle of well-wishers who are probably throwing things at you and then hop in your car to drive away. Only thing is, you don't recognize your car! Some humorous wedding party members have taped it shut, or covered it in balloons or tied a million streamers to your antennae and bumper.
Having a getaway car that screams, "We just got married: honk at us!" is a fun part of heading off for the honeymoon. However, sometimes an over-eager decorator can end up ruining the fun by doing permanent damage to your car or by simply decorating it in a way that you feel is inappropriate or uncomfortable. Here's a few Wednesday tips on the getaway car:
Have your fiance ask his best man to make sure that no shoe-polish or paint is used on the body of the car. This paint washes off windows with a little effort. However, it often causes permanent damage to the car's exterior and paint job if used on the body of the car.
Also have your fiance have a conversation with the groomsmen about how far they take their practical jokes and pranks. One couple I know had their wedding night considerably diminished by a couple of groomsmen who decided it would be funny to douse them with Super-Soaker water guns on their way out of the reception!
Make sure someone, usually the best man, is designated to get your car from the wedding to the reception and give the groom the keys at the appropriate time. Who wants to hunt for car keys when it's time to leave?
Also, make sure someone is made responsible to get the bride's luggage into the car ahead of time. Most likely neither the bride or groom will think of luggage as they are getting ready to leave.
If you are not driving away in your own vehicle, but a rental, make sure the details are arranged ahead of time. Who is paying the chauffeur? Or, who is returning the rental car the next day? How are you getting to the next place if your rental car is returned?