Heirloom Wedding Dress

If you are fortunate enough to have the option of wearing an heirloom dress, jewelry, or some other piece of wedding finery, count yourself blessed! What an honor to carry the legacy of previous generations of faithful brides as you become a bride yourself.
If you are wearing an heirloom piece, take great care in its handling. Find out what expectations come along with its use. Is it permissible to have the item altered, tailored or redesigned? How does it need to be cleaned before and after its use? What will happen to it after the wedding – is it a gift or a loan? It is likely that any heirloom piece will be seen as a precious possession being handed down or lovingly shared. Be sure you understand the expectations involved so that you will know how to care for it, and express your appreciation for its use.
Handmade Wedding Dress
Some brides wish to make their dresses themselves or have it made by their mother, grandmother or another friend or family member willing to bless them with this service. Often this will allow you to choose many different design elements and combine them into one dress that is perfectly suited to your taste and build. It allows you to wear a completely unique dress and gives you choices in style features outside of whatever is en vogue during your wedding season. Brides also choose this option simply for the sentimental or heirloom quality of wearing a lovingly handmade dress.
If you choose to wear a handmade dress, keep in mind that making a dress can take just as long or longer than specialty orders from a dress shop and will not necessarily save you money. The fabric, design, and time involved will likely cost just as much as buying a dress off-the-rack. The exception would be a very casual or simple gown that may not be offered by dress shops.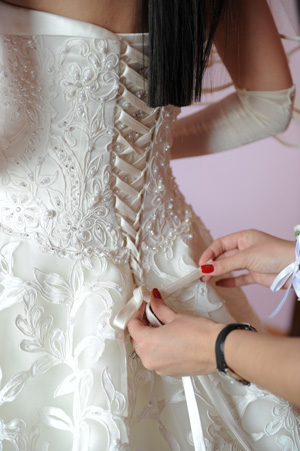 Custom Made Wedding Dress
If you do not know someone who is willing and able to make your wedding dress, but you are unable to find something you like in the dress shops, you can opt to have your dress custom made. This will most likely be an expensive option, but will allow you to be a part of designing just the dress you want. If you wish to have your dress custom made, you should call local dressmakers for a consultation and quote. If you cannot find a resource for local dressmakers, try asking the largest local fabric shop if they know of anyone who does custom work.
Chain Store Wedding Dress
The most common way of finding a wedding dress is to spend a "girls-day-out" with your family and girlfriends, trying on dresses at the local dress shops. No matter how many great little shops you have locally, start with the largest wedding chain store in your area. They will likely have the largest selection of dresses in-store for you to try on. Trying on fifteen or twenty dresses in a broad array of styles will help you narrow your decision down to particular style you end up liking.
When initially trying on dresses keep a few things in mind:
Many bridal shops require an appointment, especially if you are bringing several people with you. You may save time and get better service if you call ahead.
Plan to go more than once. This takes the pressure off of choosing a dress NOW. Many brides despair after trying two shops and not finding something in the first hour. Lord willing, you will only be a bride once – it may take awhile to find the perfect once-in-a-lifetime dress!
Don't go alone. It always helps to have a second pair of eyes and someone to bounce ideas off of. If having too many opinions will be intimidating to you, but there are several people who want to be there when you choose a dress, make your first outing just for fun. Invite your mom, mother-in-law-to-be, sisters, and girlfriends. Don't plan on making any big decisions. Just enjoy the excitement for your wedding day, have lunch, laugh and be silly.
Be aware that many brides end up buying a dress completely unlike anything they had in mind when walking into the bridal store. Try lots of styles and let the sales ladies make suggestions. You are only looking for one dress – they see hundreds of dresses and brides a year and often have developed an eye for what is flattering. They may even know what you will like better than you do.
Keep in mind that most dresses today are made with options. If you don't want to wear a sleeveless dress but fall in love with one they "force" you to try on, it probably has the option to add straps or cap sleeves. Just ask.
Take the undergarments you will wear with your dress when you are trying on wedding dresses. A dress will fit much differently with a strapless bra, bustier or girdle and may even look different on. You may not need to bring these for your first try-on, but certainly for any fittings or for a final purchase.
Second-Hand Wedding Dress
The most cost-effective way to purchase a wedding dress is to buy one second-hand. There are consignment shops that specialize in wedding dresses, and you can buy them from the same places you buy other second-hand items: Craigslist, Ebay, classifieds, etc. It may take awhile to find just what you want, but you will save a lot of money. Since these dresses have been worn only once, they will mostly likely not look used. If you can find something you love second-hand, there's very little reason not to buy your dress this way. Like any second-hand item, be sure to check the dress over carefully for stains or flaws, and try it on before purchasing. Also, keep in mind that you will need to arrange for hemming, alterations, cleaning, and pressing since you are not purchasing from a bridal shop where such things are often included.
Boutique Wedding Dress
Once you have found a style you like and specific features you are looking for, you may want to expand your search to the smaller wedding boutiques. A lovely little wedding boutique will have attentive salespeople and usually carry more unique dresses than the larger chain stores. Sometimes this will mean they charge top dollar, but don't assume this is the case. Famous designer boutiques will make you feel like royalty for a price, but a small shop doesn't necessarily mean big dollars. A smaller shop usually attends to little details that make the bride feel special and helps her discover just what she really wants.
Do realize that a boutique will most likely have to special order your dress. They may have a few dresses for sale off-the-rack, but smaller shops simply don't have the room to rack every size for every dress they carry and will only keep in-store a selection to try on for special order. Special orders usually take a minimum of six months for delivery. Be sure that their ordering schedule fits your wedding date or ask to only see off-the-rack dresses.
More wedding dress tips and other bridal apparel is discussed in chapter 8, "Arrayed in Fine Linen" of All Things Are Ready.